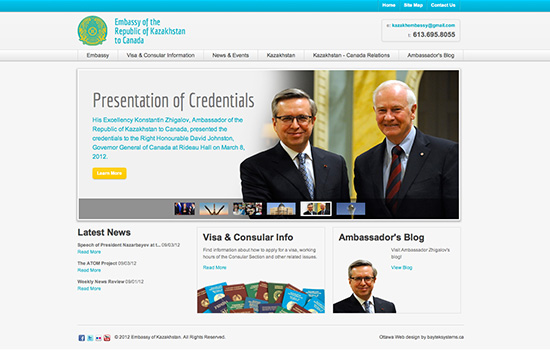 Who: The diplomatic relations between the Republic of Kazakhstan and Canada were established on April 6, 1992, thus paving the way for steady and mutually beneficial bilateral ties in the political, economic and cultural spheres.
Solution: The Embassy approached Baytek to refresh their outdated Web presence. Baytek revamped the look using a modern web design approach, with slideshows and feature boxes to entice users to section of the Website. Baytek also deployed their easy-to-use customer Content Management System so the Embassy could reorganize their content without needing the help of a Website manager.
Testimonial: "Professional and creative approach to work and always ready to respond and help. It is a pleasure to work with the website developed by Baytek Systems." Kuzim Artem.