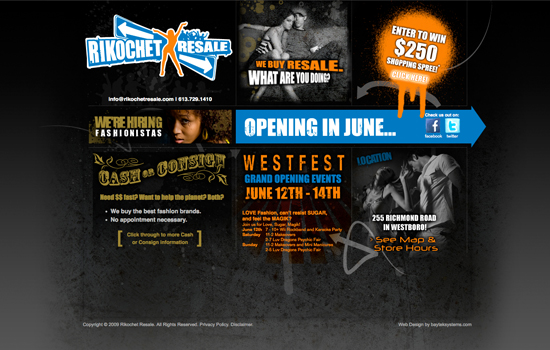 Brief: Rikochet Resale specializes in teen adult fashion brands in clothes, purses, shoes, jewelery and accessories. Their cash or consignment approach to resale is unparalleled in Ottawa. Brands such as Hollister, TNA, Tommy and LuLuLemon fly off the shelves everyday! To reflect Rikochet's approach to fashion, Baytek was requested to design a sexy, provocative and fun site.
Solution: The site combines a unique navigation system, with pop-up windows appearing within the page. This system allows the site to be flexible when adding new content to the grid. The edgy design reflects Rikochet's fashionistas and target audience – combining urban graphics and colourful type design.
Results: To come – the site has just been launched.