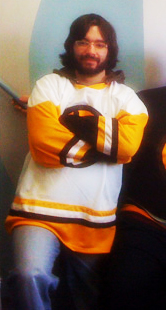 Welcome to our weekly Employee Spotlight, in which we ask our employees the most important questions! Next up is Yvon Viger…
When did you join Baytek?
November 1st, 2010.
What do you do at Baytek?
I am a web developer / programmer.
What's your favourite quote?
1. In complete darkness we are all the same; there is only our knowledge and wisdom that separate us.
2. If I could I would, but I can't so (take) off.
What's your favourite snack/treat?
Fresh fruit and anything without peanut butter.
If your life had a soundtrack, what would be the first song on it?
Ophidian – Abandon ( Original Mix ) mixed to Negative A – DNA Hunter, but there are so many good tracks I could name hundreds. I wouldn't care just as long as it's gabber and it's loud.
What do you love to do when you're not working?
Listening to music which I do a lot, finding music, getting music, going to music related events. Playing Combat Arms, modding things, building things, breaking things and fixing things.
What do you like about working at Baytek?
The fact that I am not the only nerd, the people and the location.