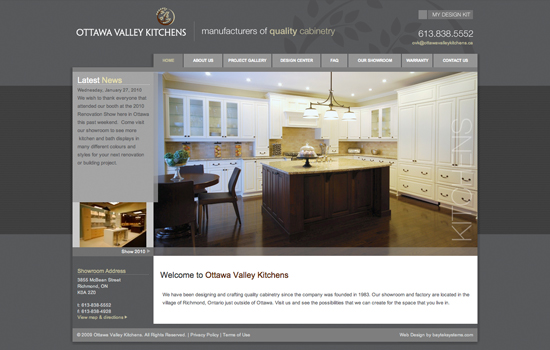 Profile: Ottawa Valley Kitchens (OVK) started building cabinetry in 1983 in a small shop located in Stittsville ON. After one year of business the company needed more space to grow so a building was purchased in the village of Richmond ON, which is where the company continues to operate today. The company now houses 17,000 square feet of factory and showroom with a staff of 30 people. The company is a family business owned and operated by Carman and Blair Howatt.
Challenge: As part of Baytek's rebranding of OVK, a new website was required. Their current site was getting outdated, and they needed to showcase their latest kitchens and materials, enveloped in the new branding. A request was also to create a section to put the client's collection of styles, colours and design ideas together in one spot.
Solution: Baytek designed and built a website showcasing OVK's new identity, creating a sleek and modern looking site that reflected the methodology and processes of OVK. The site was designed with all their corporate collateral in mind, so the flow from print to online was seamless. To solve the issue of a central area where clients could store their styles, colours and ideas, Baytek came up with 'My Design Kit'. A web application built from the ground up, the Design Kit allows visitors to the site to save their information so it would be there next time they visit the site.
Please follow the link below to see the Ottawa Valley Kitchens website.