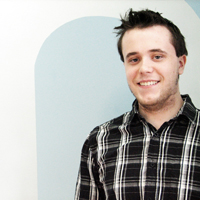 Welcome to our weekly Employee Spotlight, in which we ask our employees the most important questions! Next up is Ryan Johnson…
When did you join Baytek?
May 2010.
What do you do at Baytek?
I'm a programmer.
What's your favourite quote?
ಠ_ಠ
What's your favourite snack/treat?
Bacon.
If your life had a soundtrack, what would be the first song on it?
Time – Hans Zimmer.
What do you love to do when you're not working?
Movies, TV shows, gaming, just hangin' out with friends.
What do you like about working at Baytek?
Friendly people, good work environment.