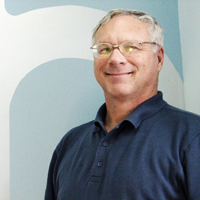 Welcome to our weekly Employee Spotlight, in which we ask our employees the most important questions! Next up is Peter Kniewasser…
When did you join Baytek?
April 2007.
What do you do at Baytek?
I am the CFO/Comptroller/HR person.
What's your favourite quote?
"Things go right when the Chemistry's right!"  Maybe we could use "Things go right when your Website's right!"?.
What's your favourite snack/treat?
Sushi.
If your life had a soundtrack, what would be the first song on it?
Any Talking Heads song – but maybe Psycho Killer because it's bilingual.
What do you love to do when you're not working?
I like to bike and XC ski in the mountains (big or small) and I like to surf/sail in the ocean. I also love watching the Tour de France and movies on HD TV. Oh, and driving my daughter to volleyball tournaments all over Ontario.
What do you like about working at Baytek?
Working with a group of talented young people who create exciting branding, design and web solutions for our clients.