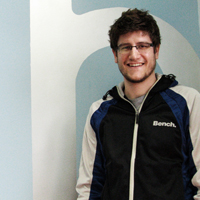 Welcome to our weekly Employee Spotlight, in which we ask our employees the most important questions! Next up is Jim Hopkins…
When did you join Baytek?
I started in April 2008 – how time flies!
What do you do at Baytek?
My official title is Senior Graphic Designer – so I design everything from Websites to Brochures, from Business Cards to Posters – anything and everything! I'm also known to dabble in some Web Architecture planning when needed!
What's your favourite quote?
To infinity and beyond!
What's your favourite snack/treat?
French bread right out the oven. Hawt.
If your life had a soundtrack, what would be the first song on it?
"Rule Britannia" by James Thomson.
What do you love to do when you're not working?
I love writing music and playing in my band (ahem, cough www.feversband.com). I also love playing and watching football (or as you call it, 'soccer') – i'm a huge a Manchester United fan, and follow them religiously – come on you reds!
What do you like about working at Baytek?
There are lots of great reasons why I like working here – my co-workers, the interesting work, the clients, the awesome work environment, our great staff events, the music – to name a few! But it's also the little things… like seeing Peter bring a different air conditioner repair person into the office every few weeks (on last count, we're on number 12).